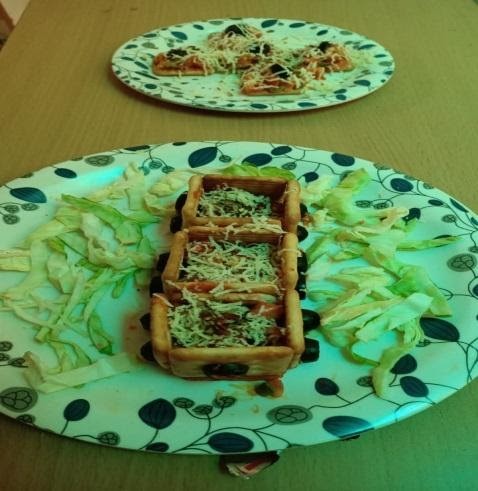 Spandan Fireless Cooking 2021
The Spandan InHouse Fireless Cooking was held on Tuesday, 2nd March 2021, with great zeal, excitement and frolicsome atmosphere. The programme began with all Participants and Chief Guest welcoming the esteemed gathering and emphasised on the importance of Cooking and challenging in a Student's life. 
An energizing equestrian display set the tone for the rest of the event. Once the races began, the air was filled with cheering and tons of encouragement for the young Home Cooks.
Students of all colleges and whole Bhagwan Mahavir University competed in event Fire less Cooking between the BMEF Colleges added to the enjoyment.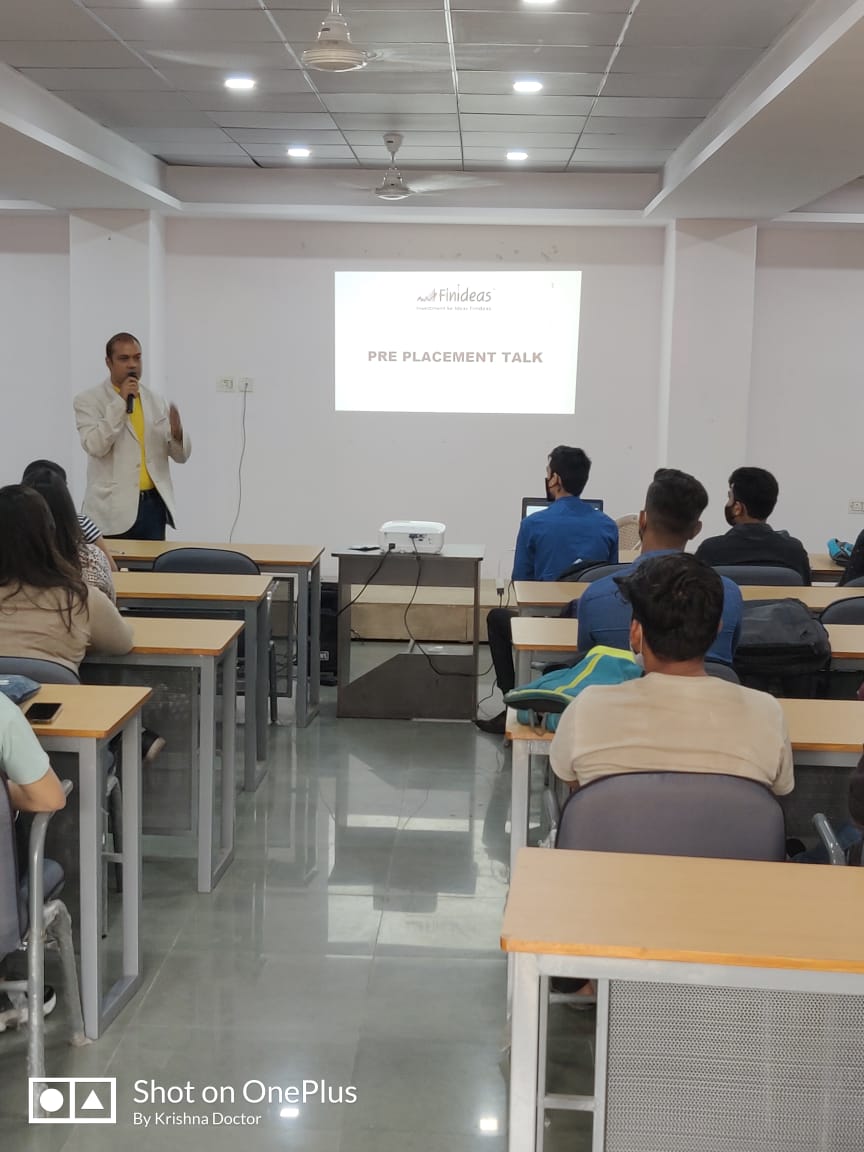 CAMPUS DRIVE PRE-PLACEMENT TALK BY FINIDEAS INVESTMENT ADVISOR, SURAT
On 27th February 2021, pre-placement talk was conducted for the students of TY BBA VNSGU by FINIDEAS INVESTMENT ADVISOR, SURAT .  CA Govind Jhawar sir was the speaker for this session. He has briefed students about the great career opportunity in the field of equity and wealth management and the entire recruitment and selection process for the organisation. 52 students participated in this talk and interested candidates were going for the further selection process.   All the students were happy being the part of this pre-placement talk.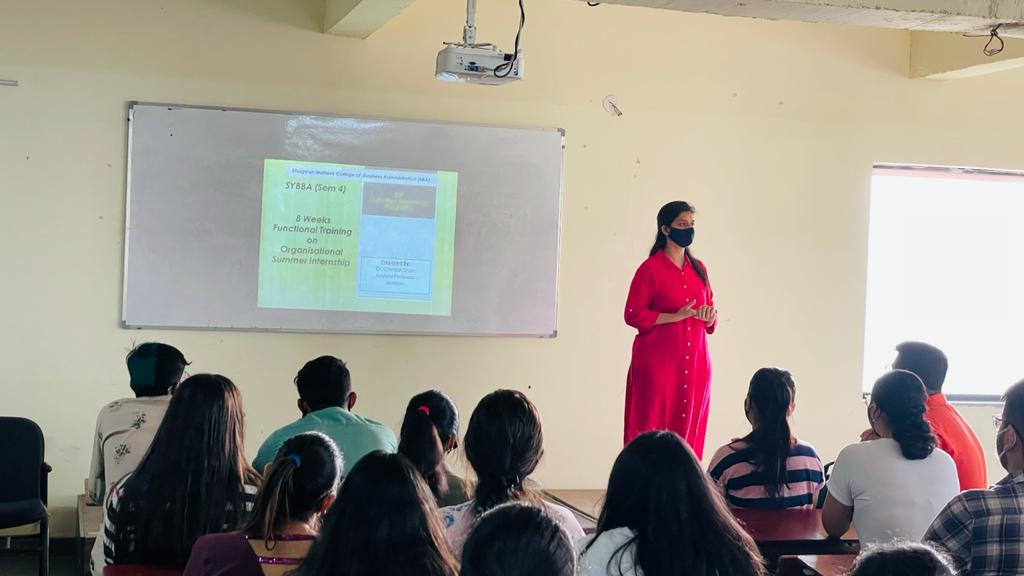 Summer Internship Project
We conducted SIP meeting for SY- BBA at 8:15 am on 24th February 2021 in our college premises. So this is 8 weeks or 2 Months functional training on organizational summer internship. 
SIP:  
It's a part of academic curriculum, and students are required to with an organization for hands on experience. SIP aims at widening the students' perspective by providing exposure to real life organizational and environmental situations. This will enable the students to explore an organization build relationship with a prospective employer, or simply hone their skill in a familiar field. Dr. Cheta Desai (I/C Principal) gave the brief about what SIP is all about i.e. introduction. SIP also will also provide invaluable knowledge and networking experience to students. 
We discussed about many departments and the main agenda were that we too focused on were: How to form a group, allotment of teacher guides, how to take permission, how to start this project, and other queries related to SIP project.
So then respective specialized faculties brief about different departments which are as follows:
Dr Chintan A. Shah explained about HR Department which included topics like meaning of HR, organization chart, HR related activities, recruitment and selection process , about training and development, HRIS and HRA, internal mobility, performance appraisal, etc.
Mr. Gaurav Bhatt explained all about Production Department which included definition of production and introduction, organization chart, process of plant lay-out design, material handling and functions of material handling, inventory control analysis, quality control and methods of quality control, etc.
Mr. Krishna Doctor explained students about Marketing Department which included marketing department's structure, segmentation, targeting, positioning, all about product mix, service management.
Mrs. Rency Desai and Mr. Hitesh Patel informed or explained students about Finance department as well as Accounting Department. Its meaning, chart, capital budgeting, accounting policies, sources of funds, working capital management, Ratio analysis, preparation of cost sheet, internal audit and accounting policies, etc.
Dr. Chintan Shah gave a brief about other departments like administrative departments, transport department, utility services, security department, etc.
These all were the things discussed and now students had to prepare a project file under our guidance and organization training. These will help students in many ways and will give wider perspective about companies.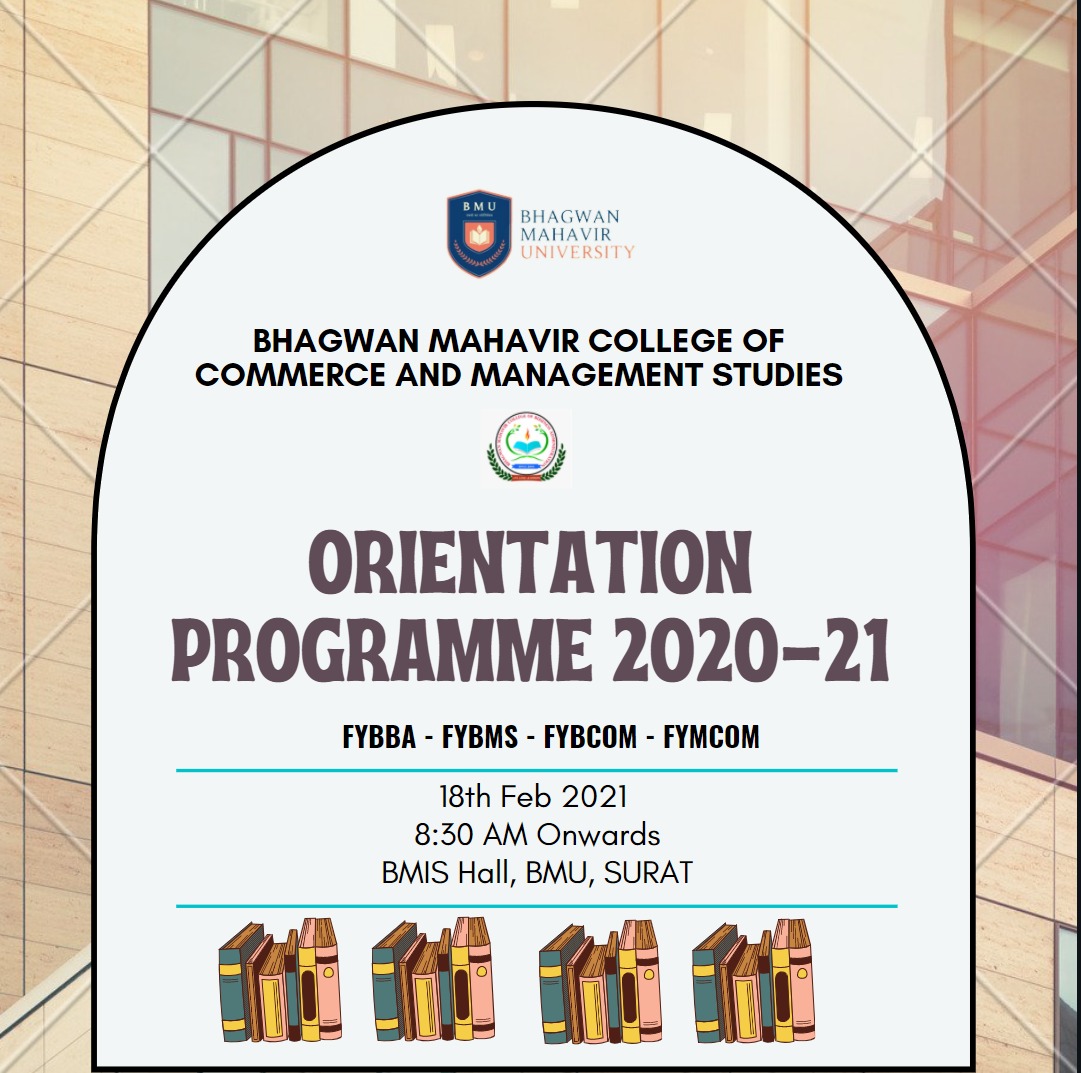 Orientation Program 2020-21
BMCCMS conducted an orientation programme for all its first year students of BBA, BCOM, and BMS & MCOM. The venue selected for the event was BMIS auditorium hall. Following all the COVID-19 guidelines the event was conducted in three slots; first session being held from 9:00 A.M. to 10:00 A.M. for FYBBA div I & II, second session being held from 10:30 A.M. to 11:30 A.M. for FYBBA div III & IV, third session being held from 12:P.M. to 1:00 P.M. for FYBMS and MCOM semester 1. 
Students were instructed to be present on time and follow all the COVID guidelines. Student attendance in all the sessions was taken at the entrance.
The first session commenced at 9:00 A.M, for FYBBA Div I & II, wherein the students after being welcomed by Dr. Cheta Desai, Principal, were addressed by the BMU provost DR. Nirmal Sharma sir. The students were introduced to their college campus, infrastructure and faculties through a presentation, followed by briefing them the general rules and regulations to college and examination rules by principal Dr. Cheta Desai. The session was ended with a vote of thanks by Ms. Ishani Choksi Shah.
The second session commenced at 10:30 A.M, for FYBBA Div II & III, wherein the students after being welcomed by Dr. Cheta Desai in her welcome speech, were addressed by the BMU Registrar DR. Ajay Kaushik. After being acquainted with college and faculties through presentation the students were sensitised on codes and conduct of college and examination process by principal Dr. Cheta Desai, followed by a vote of thanks by Ms. Ishani Choksi Shah.
The third session of the programme started at 12:00 P.M, for FYBMS, FYBCOM & MCOM semester I. wherein the students after being welcomed by Dr. Cheta Desai were warmly addressed by our esteemed Mr. Jadish Jain, followed by the address of our chief guest, BMU president Dr. Sanjay Jain sir. After that, the students being familiarized by college environment through a power point presentation, followed by the Principal Dr. Cheta Desai's speech, in which the students were acclimatized with general codes and conduct of college and exam guidelines.  The programme was ended with a vote of thanks by Ms. Ankita Maheshwari.

The list of organising committee is as below:
Orientation Program Committee

Sr.no

Committee

Duty 

Faculty Name

 

 

 

1

Infrastructure Committee

Hall Permission

Mr.Krishna Doctor

 

 

Arrangement of seminar Hall

Mr.Gaurav Bhatt

 

 

Music System

Mr. Hitesh Patel

 

 

Chair, Podium , Sofa,Stage, Name plate

 

 

 

Sentization

 

2

Decoration

Lamp Lighting Arrangement

Rency Desai

 

 

Rangoli

Nelviz Jivasha

 

 

Murti Arrangement

Komal Shah

 

 

Flower ,har, Match Box, Diya , Ghee, Table Cloth

 

 

 

Background Banner

 

 

 

Felicitation

 

3

Anchoring

Speech

Ankita Agarwal

 

 

PPT Checking

Ishani Choksi

 

 

Rules & Regulation

 

 

 

Faculty Introduction

 

 

 

College Introduction

 

 

 

Video

 

 

 

 

 

4

Discipline 

Selecting Students

Mr. Hitesh Patel

 

 

 

Esha Patel

5

Food / Pantry

Food For Guest

 

 

 

Dishes , Glass etc. Crockery Management

 

 

 

Water Bottles

 

6

Invitation Committee

Making Invitation Card

Tapasya Karnavat

 

 

Invitation List

Pratik Kudiyanawala

 

 

Invite

Raksha Jhawar

7

Feedback 

Making Feedback Form

Ishani Choksi & Dr. Chintan Shah

8

Report

Final Report

Ishani Choksi

 

 

MOM

Ishani Choksi

9

Social Media

Share Online 

Pratik Kudiyanawala

 

 

 

Esha Patel